Corporation is a DLC map from Map Pack 2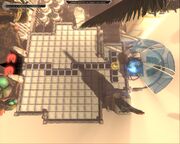 The defenses that are used by Elysion One are not, as one would think, made by the military. They are made by a private Corporation called Automagic, Inc. Normally Corporations place their offices inside the walls of Elysion One where they're safe from assorted alien attacks. If you are the producer of the defenses, though, you get a few perks. One is that you can have your offices wherever you want! The second one is, well, you have Core Guardians on Speed Dial.
Corporation is a map that has 4 spawn points, and every wave is split up among the 2 sides. There are 2 ground spawn points on either side of the dividing line, and the Air spawn points are also divided. In the case of an odd number of enemies, the right side gets the extra enemy. The map bears a resemblance to Glade, in protecting two separate areas at the same time.
The enemies are kept separate by the dividing line going down the middle of the platform and merge at the core.
The following towers are available when playing Corporation in single player: