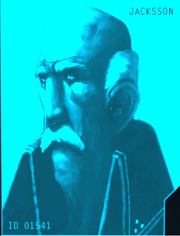 | | | |
| --- | --- | --- |
| Name: Jacksson Whalebrook | Personal ID: 01541 | Code: Unknown |
| Race: presumed Caucasian | Eye Color: Unknown | Hair Color: White |
| Height: Unknown | Age: 150 (927-1077) | Duty: Core Guardian |
General Whalebrook is a former defender of Elysion One. Though his current whereabouts are unknown, he is alluded to in several areas of the game.
Spoiler
In-Game Appearances
Found in Mine as part of the Voyage au centre de la Terre achievement. After reaching the Crystal Room, Whalebrook's voice will come over a loudspeaker. It is unknown if this voice was prerecorded or not.
The monument from the eponymous achievement on Arc has a screen that reads:
"In memory of General J. Whalebrook 927 - 1027 ATL"
The third line is partly covered by a scrap of paper.
A hidden room in Facility, part of the Sweet achievement, contains a computer terminal with a picture of Whalebrook, his first name, and some insight into his role in Elysion One.[1] According to notes in his bio, he was famed for his combat ability.
End spoiler
References
Edit